This post contains affiliate links.  I receive commission from purchases you make through these links, at no added cost to you.  I only recommend products I use and truly believe in.  You can read more here.
Starting a blog can be overwhelming so I've compiled a list of my favorite blogging resources. I am suggesting these resources because I either use them and believe in them or know someone who does and trust their judgment. Some of these recommendations are affiliate links meaning if you click them and end up buying something or subscribing to them I will earn a commission at no added cost to you.
I spent so much time researching different web hosts, a year really. I knew the choice would be between the top two and I ended up going with SiteGround which is usually ranked 1 or 2 on most hosting lists. In order to have a successful blog and especially if you plan to monetize it self hosting is a must. I have been very happy with my site's speed, load times and uptime. They have different types of hosting, I use WordPress hosting, and different plans to choose from starting at $3.95 a month.
Recently I re-evaluated my blog theme after deciding to add a Shop page which is currently under construction.  My old theme did not support everything needed for the page so I switched.  I'm now using the Captivating theme from Restored 316 and I love it!  The themes at Restored 316 are beautifully designed and well thought out.  They are feminine yet highly customizable and SEO friendly.  Most themes run around $75.  You will need to purchase the Genesis theme separately in order to use these themes but if you already have Genesis you're good to go.  There is a ton of support on the website if you run into any problems.  You can watch tutorials for some of the most common questions and even those not so common.  I highly recommend checking out Restored 316 if you're looking for a blog theme.  And the creator/designer Lauren Gaige is such an inspiration.  You'll love reading her story and seeing all her beautiful work.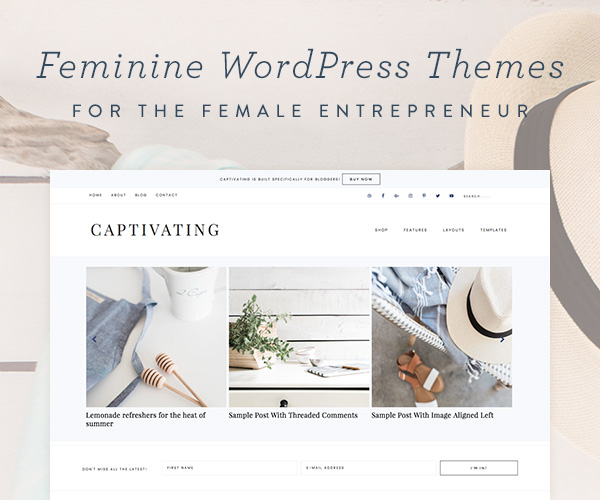 I do all my own photo editing for my blog using Picmonkey. They are a photo editing/graphic making site. Most folks can probably get away with the free version. You'll be able to use a lot of the powerful tools to create professional-looking graphics, edit pics, or add flair to fun projects. I used to use the free version but upgraded to the basic paid version. There are two different plans to choose from which give you tons of extra options so I think it's totally worth upgrading. The basic plan runs $7.99/month while the Pro plan runs $12.99/month. The basic plan would suit the average blogger or photo enthusiast fine. Upgrading gives you more access to cool fonts, templates and personalization options plus extra room to save more of your work. You can hop over to their website to check out what they're all about here.
When I need graphics, fonts or other web creations I always check out Creative Market first! They have a huge selection of themes and templates, too. Prices vary greatly but you can find lots of designs for next to nothing. And if you are a designer you can sign up to become a vendor and sell your products through them. They have so much that they offer and if you create an account you can get freebies every so often.
This is another site that has awesome fonts, graphics and bundles. What's even better is that on top of finding great things for your website you can also find tons of stuff for other craft projects. Products are offered from creators and are priced really competitively. You can sign up for a free account and receive weekly freebies and incentives.