This post contains affiliate links.  I receive commission from purchases you make through these links, at no added cost to you.  I only recommend products I use and truly believe in.  You can read more here.
A while back I wrote a post on how to start a blog. I suggested you purchase a decent blog theme because of the ability to get updates and help if you needed it. You can read that post here. Well, I'm here to tell you that I'm going to practice what I preach. I switched blog themes and I'm going to tell you how I did it and why.
Before I get into all the details I want to give you a little bit of background info first. I started The Crafty Middle Sister a little over a year ago with a nice theme purchased from Angie Makes. I absolutely loved the theme and planned on using it indefinitely. Recently I decided to add a shop page to my blog. I wanted to have an area where I could showcase products that I love and recommend and the best way to do it was to use the WooCommerce plugin. Unfortunately, my theme required an update in order to install WooCommerce and one wasn't available. Because I saw no update coming in the foreseeable future I decided it was time to purchase a new theme, one that was WooCommerce ready.
Where you should go to find beautiful themes
When it came time to purchase a theme I searched through lots of them. One of my favorite places to search blog themes is Creative Market. They have tons and I mean hundreds of themes in any price range. You should definitely check them out first to get an idea of what you like.
But I knew who I wanted to purchase my new theme from though. I was already a huge fan and follower of Restored 316. The founder, Lauren Gaige has created some of the most beautiful, feminine blog themes on the web. But even though I knew I wanted one of her themes narrowing down the choices was tough! I will always be a fan of the Sprinkle theme but Darling and Delightful are also on my list of faves. The theme I chose though was Captivating.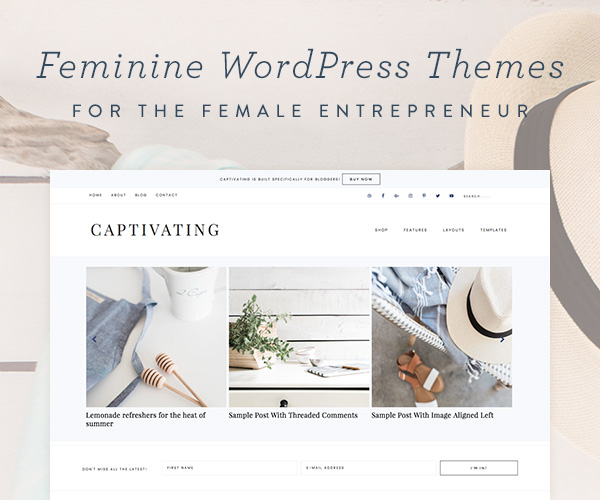 I chose the Captivating theme for a couple of reasons. When Restored 316 designed this theme they thought of everything. It has two menus which is something I knew I wanted. It's responsive which means it will look good on any screen and it is fully customizable. The theme is also WooCommerce ready which is what I needed for my shop page.
One thing you should know about all of the Restored 316 themes is that they are Genesis child themes. That means you will need to not only purchase the child theme from Restored 316 but you'll need to purchase the Genesis theme, too. You can purchase that at StudioPress.com. Think of it like this, Genesis is your face and Captivating is the makeup on your face. That's a little far out there but hopefully, you get the point. Your face is the basic structure and the makeup adds dimension and beautifies your features. In total I think I spent around $130 for both themes.
Once you purchase your new theme you'll download the files, most likely in a .zip file. You'll go to your WordPress dashboard, hover over Appearance, click on Themes and upload the new theme there. Make sure to follow the directions that come from the theme's creator. You may have plug ins that need activated so make sure to check them. Prepare to spend some time looking over each page/post/category to make sure everything shows up correctly. Most things will fall into place if – and it's a huge if – if you follow the installation instructions. No winging it!
My top piece of advice is don't wait until 9:00 at night to start the switchover. I tried to hurry it along and was very disappointed with how my sight looked. So disappointed that I switched the theme back and put it out of my mind. After a few weeks the guilt from spending the money for the new themes was eating at me so I knew I would eventually have to take the time to learn how to do the switchover. And thankfully I did.
Now, I'm going to tell you how I finally made the switch and got it to work for me. Don't feel like you have to do it the same way I did but honestly it was the best way for me to get the feel of the new theme. You see, I have a second blog that I haven't done anything to for over a year. I had planned on running two blogs but I have my hands full with just one so the other sits. Fortunately, when you purchase a blog theme you can use that theme on different sites. I only had to purchase one Genesis theme and one Captivating theme but I can use them on multiple blogs. And the blogs may not even look the same because of all the customizations you can do.
I've said it before and I'll say it again. Make sure your chosen theme comes with support! It doesn't have to be one on one support, either. As long as the theme developer has resources you can access to answer whatever questions you may have it will help you. Thankfully Restored 316 has plenty. And if I still have questions I use Google to get answers.
One of the best things about Restored 316 is that there are tons of video tutorials and resources to help you through just about any problem you may encounter. Watching the video on installing your new theme was a huge help. After I watched it I re-watched it while I installed the theme on my 2nd blog. Once installed on there I was able to figure out what I liked and what I didn't. By playing around with the new plugins and widgets which came with or were recommended for the theme, I became more comfortable with the theme. I knew I could make the changes I wanted to now on this blog.
Overall it took me a couple of hours to complete the switchover. I even re-watched the tutorial as I went and it wasn't as bad as I had feared. I spent days fine tuning things on the blog and even to this day there are parts that need tweaked. If you are not comfortable getting your hands into some computer coding you may want to enlist a tech savvy friend because chances are you may need to change some things. Fortunately, I'm pretty comfortable dabbling in minor coding changes. As long as there is a tutorial to talk me through the steps, I'm fine. It's not nearly as scary as I thought it could be.
Some of the things you'll want to check once you've changed over your theme are:
Images – Default image sizes may not be the same when you switch themes. Mine were different so I had to go through each image and resize most. This includes the featured image size and internal images in blog posts.
Plug Ins – Double check your plug ins to make sure you have the ones you need. You can also get rid of the ones meant to work with your old theme. Make sure that any you get rid of are not used for any widgets or parts of the blog still in tact. For example, when I switched themes I still used my old 'About Me' widget which used a specific plugin from my old theme. I did not get rid of the plug in that supported that widget until I changed my 'About Me' widget to the new one.
Make sure any code you inserted into the header or body is still working. This may include various tracking sites such as Google Analytics or even Pinterest.
Now that I've done the switchover I've been able to set up my Shop page. Has it been worth it? Yes. I like my new theme a lot and the support from the website is superb. As I stated before, the way I tackled my change-over may not have been ideal but it was a great way to familiarize myself with the theme. Being able to try things beforehand without worrying about ruining my site lifted a huge weight off me. With that being said, don't be afraid to try different things with your website. I never go back and try things with the other blog now. All changes I make are done to The Crafty Middle Sister site and if I don't like them I change them back.
Switching your blog theme is not something everyone needs to do. Not everyone is going to want to tackle the process even if they have to. That's where hiring someone who works in web design or theme installation makes sense. I could never pay someone to do it for me because I'm the type of person who wants to try to figure it out herself. Others may not have the time or may consider the whole process too daunting. I say do what you feel comfortable doing.